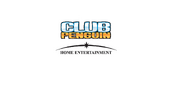 NOTE: THIS PAGE IS A FANON, THE OTHER WORD FOR FAKE.
Section heading
Club Penguin Home Entertainment is a studio that releases all the Club Penguin related series.
Trivia
Club Penguin Home Entertainment used the old Disney Home Entertainment slogan in the original logo.
On September 9th, 2014, a new logo was published.
The first Club Penguin Home Entertainment DVD has been released January 14, 2014 called "The Club Penguin Adventures".
Club Penguin Home Entertainment has released their second DVD on June 1, 2015 with the season 1 set of The Adventures of Corn Sky!
This is a mimicry of Disney Home Entertainment.
Ad blocker interference detected!
Wikia is a free-to-use site that makes money from advertising. We have a modified experience for viewers using ad blockers

Wikia is not accessible if you've made further modifications. Remove the custom ad blocker rule(s) and the page will load as expected.