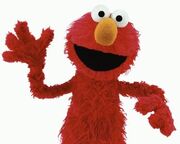 Section heading
Elmo was one of Corn Sky's good flashback friends. Elmo appears on Sesame Street, Elmo's World, and Elmo The Musical in real life television. He is also popular with many children in real life who watch Elmo related shows. Elmo was also popular in Pookie culture on Club Penguin.
Ad blocker interference detected!
Wikia is a free-to-use site that makes money from advertising. We have a modified experience for viewers using ad blockers

Wikia is not accessible if you've made further modifications. Remove the custom ad blocker rule(s) and the page will load as expected.