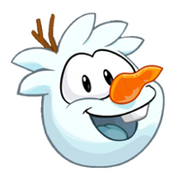 Section heading
Fresh is Corn Sky's limited edition Olaf Puffle. The other white related puffles are Eight, Angela, Rabbid, and Angelina.
Trivia
Fresh was adopted on August 21, 2014.
Fresh is another puffle who was named before adoption.
Fresh is an olaf puffle, similar to Olaf, a snowman from the 2013 movie "Frozen".
Ad blocker interference detected!
Wikia is a free-to-use site that makes money from advertising. We have a modified experience for viewers using ad blockers

Wikia is not accessible if you've made further modifications. Remove the custom ad blocker rule(s) and the page will load as expected.