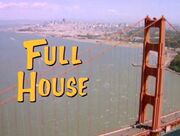 Section heading
Full House is Corn Sky's most favorite TV sitcom. The show revolves on a single father, Danny Tanner, who enlists his best friend Joey and his brother-in-law Jesse to help raise his 3 daughters Michelle, Stephanie, and DJ (Donna Jo). The series aired from September 22, 1987, to May 23, 1995, broadcasting 8 seasons and 192 episodes, with current series reruns on Nick@Nite. A spin-off series, Fuller House, premiered on Netflix in February 2016.
Gallery
Ad blocker interference detected!
Wikia is a free-to-use site that makes money from advertising. We have a modified experience for viewers using ad blockers

Wikia is not accessible if you've made further modifications. Remove the custom ad blocker rule(s) and the page will load as expected.