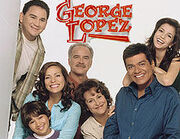 Section heading
George Lopez is another TV sitcom Corn Sky likes that airs on Nick@Nite, The show revolves around a fictionalized portrayal of George Lopez, who portrays as himself, working at the Power Brothers aviation factory and raising his family consisting of his wife Angie, his daughter Carmen, and his son, Max, after having endured a dysfunctional and unhappy childhood at the hands of his alcoholic, remorseless mother Benny, who is portrayed as careless and unloving. Other characters include Angie's indulgent father Vic Palmero and George's closest childhood friend Ernie Cardenas, noted for his fecklessness at dating and his socially awkward behavior. After Carmen's departure from the series, the role fulfilled by her character was replaced with Angie's overindulged niece Veronica, with a large trust fund that has been entrusted under George's care.
Ad blocker interference detected!
Wikia is a free-to-use site that makes money from advertising. We have a modified experience for viewers using ad blockers

Wikia is not accessible if you've made further modifications. Remove the custom ad blocker rule(s) and the page will load as expected.