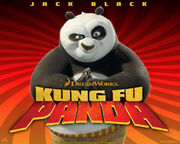 Section heading
Kung Fu Panda is another one of Corn Sky's favorites. Set in a version of ancient China populated by Chinese anthropomorphic talking animals, the plot revolves around a bumbling panda named Po who aspires to be a kung fu master. When an evil kung fu warrior is foretold to escape after 20 years in prison, Po is unwittingly named the chosen one destined to bring peace back to the land, much to the chagrin of the resident kung fu warriors.
Gallery
Ad blocker interference detected!
Wikia is a free-to-use site that makes money from advertising. We have a modified experience for viewers using ad blockers

Wikia is not accessible if you've made further modifications. Remove the custom ad blocker rule(s) and the page will load as expected.