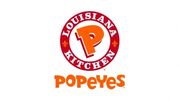 Section heading
Popeyes is another restaurant Corn Sky would like to have food from. They serve lots of chicken, he would go for their fries most of the time. It is also related to Church's Chicken in several different ways.
Ad blocker interference detected!
Wikia is a free-to-use site that makes money from advertising. We have a modified experience for viewers using ad blockers

Wikia is not accessible if you've made further modifications. Remove the custom ad blocker rule(s) and the page will load as expected.