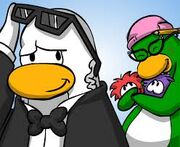 This agency was founded by Corn Sky on November 27, 2013.
Section heading
The Puffle Protection Program (PPP, for short) is a program made by Corn Sky on November 27, 2013 and created a wiki about it the following day. Our goal is to help wild puffles have a home and help the puffles in danger to have a better life. Our second goal is to also stop pookies abusing the puffles and take them to another place to live and hang out. The Puffle Protection Program's HQ is located at Corn Sky's igloo with security lasers to not let any strangers, pookies, or puffle abusers inside without permission. He is currently trying to make more people join his crew to help puffles in need. Corn Sky currently protects the server Abominable. There is another program called the "Pookie Protection Program" which is basically similar as this program but instead protects pookies from pookie haters. The Puffle Protection Program made a logo rip-off once, using the Pookie Protection Program's logo without authorization, but it has been solved. The PPP closed it's doors after Corn Sky left Club Penguin in summer 2016.
Agents
Ad blocker interference detected!
Wikia is a free-to-use site that makes money from advertising. We have a modified experience for viewers using ad blockers

Wikia is not accessible if you've made further modifications. Remove the custom ad blocker rule(s) and the page will load as expected.