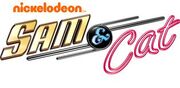 Section heading
Sam & Cat is another one of Corn Sky's favorites. It is a crossover of iCarly and Victorious. It started off when Sam Puckett has been touring the West Coast on her motorcycle and stops in Venice, Los Angeles. She witnesses Cat Valentine being thrown into the back of a garbage truck and rescues her. They become friends and Cat then convinces her to become roommates after Cat's cheerful and supportive grandmother Nona moves to a retirement home called Elderly Acres. To make money rather than getting traditional after-school jobs, Sam and Cat form an after-school babysitting business called "Sam and Cat's Super Rockin' Funtime Babysitting Service", which leads them into a series of comical adventures. Besides Nona, other people involved in their lives are Dice, their next door neighbor who is notorious for aiding people for money, and Goomer, a dim-witted professional MMA fighter whom Dice manages.
Ad blocker interference detected!
Wikia is a free-to-use site that makes money from advertising. We have a modified experience for viewers using ad blockers

Wikia is not accessible if you've made further modifications. Remove the custom ad blocker rule(s) and the page will load as expected.