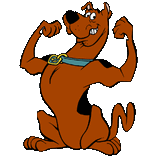 Section heading
Scooby-Doo is another one of Corn Sky's favorites. It revolves on 4 teenagers: Fred Jones, Daphne Blake, Velma Dinkley, and Shaggy Rogers and their talking brown Great Dane named Scooby-Doo, who solve mysteries involving supposedly supernatural creatures through a series of antics and missteps. Following the success of the original series, Hanna-Barbera and its successor Warner Bros. Animation have produced numerous follow-up and spin-off animated series and several related works, including television specials and made-for-TV movies, a line of direct-to-video films, and two Warner Bros.–produced theatrical feature films.
Gallery
Ad blocker interference detected!
Wikia is a free-to-use site that makes money from advertising. We have a modified experience for viewers using ad blockers

Wikia is not accessible if you've made further modifications. Remove the custom ad blocker rule(s) and the page will load as expected.