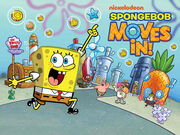 Section heading
SpongeBob Moves In is another game Corn Sky plays, but it's actually on the iPad instead. In the game, players have to build up Bikini Bottom to their own tastes and are tasked with keeping the residents happy by making all their wishes fulfilled. As players advance in the game, they can unlock exclusives in the app, untold stories about how their characters, including SpongeBob, Patrick, Mr. Krabs, Squidward, and Sandy, first arrived in the town. These untold stores were written by the show's writing staff, and are told through animated shorts.
Trivia
Ad blocker interference detected!
Wikia is a free-to-use site that makes money from advertising. We have a modified experience for viewers using ad blockers

Wikia is not accessible if you've made further modifications. Remove the custom ad blocker rule(s) and the page will load as expected.